I've been on the fence about launching a blog for the past year. I've blogged before, so I know that every minute I spend blogging is one less minute I spend doing other writing. And those minutes are already few and precious.
But. I have things I want to say! And this week, especially, I needed a place to say them.
Maybe you're not aware, but children's literature is lacking in diverse characters. People I admire have been talking about this issue for a while, but now some people are starting to take action. This week there's a We Need Diverse Books campaign going on. I urge you to get involved. Go to this link to find out how you can help.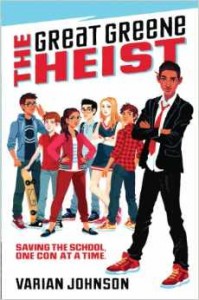 But start with something simple. And that's pre-ordering a copy of The Great Greene Heist by Varian Johnson. This is a book I've been eager to read because the reviews are glowing and I know Varian to be a talented writer and a good human being. (I love it when brilliant authors are also amazing people. I'm looking at you, Libba Bray.)
Kate Messner had the brilliant idea that if enough of us pre-order the book over the next handful of weeks, we could launch it on the NYT bestseller list. Why does that matter? It sends a message that diversity matters. It might just mean that we start hearing publishers scramble to say, "I need more titles with diverse characters on my list!" And I have to believe that will lead to more authors of color getting published.* And more diverse books on my kids' shelves.
This is an important issue to me as a former classroom teacher. I remember how hard it was to make sure my students could see themselves in the books they read. It's an important issue to me as a mother. My children are not white. I am tired of struggling to balance their shelves with diversity. I want it to be easier. I want there to be more covers showing characters who look like them. I want them to know that their lives and their stories are book-worthy too.
If you know me in real life, you know that writing outside a culture of my own was something I very much struggled with. Five years ago it was something I was sure I had no right to do. For the most part, I thought that as a white author, I needed to let people of color tell their own stories. I needed to butt out because I didn't want to get it wrong.
But a few things happened to change my way of thinking about this. And one of them was simply that my desire as a mom started to outweigh my fear. Recently I read what Lisa Schroeder had to say about this and I thought it was brilliant. If you're a writer who struggles with this issue, go read what she has to say. She speaks from the heart and from a place of humility and that is where we need to be—humble—if we write outside a culture of our own.
Diversity isn't something we white people need to let other people worry about. It's something we need to worry about too. It's something we need to take action to change. We need to think of how we can consciously and carefully include more diversity in our own stories. We also need to send a message to publishers that this is something that matters to us. I've pre-ordered two copies of The Great Greene Heist. One for my family's shelf. And one to donate to a school in my neighborhood. Have you pre-ordered your own copy? If so, Grace Lin is adding in a giveaway of her own in relation with this.
I've rounded up some of my favorite verse novels with diverse characters over at Clear Eyes, Full Shelves. Go take a look and add some new books to your shelf. I'm glad this important topic brought me back into the blog world. And so– let the blogging begin.**
*I'd love to see more authors of color getting published. How do we make that happen? Agent Barry Goldblatt has a good idea. Go check it out.
** Commenting is turned off for now because monitoring comments is time I can't budget for at present.